Unlike us, our dogs don't sweat as efficiently as we do. They do sweat but only in areas of the body that do not have fur like the paw pads and the nose. Sweating is an important mechanism for cooling the body. That is why dogs pant a lot if they are tired or when the environmental temperatures are way too hot. It is through panting that they are able to release most of the excess heat from their bodies. You can just imagine how hot your dog will feel during the summer. And just like you, it also needs a way to keep its core body temperature down. Enter a dog swimming pool. This is an accessory that actually doubles as a bath tub for your young child. Choosing the right canine swimming pool is crucial to help ensure optimum cooling fun for your pet this summer. If you're lost on how to proceed, you can start with our 10 best dog pools in 2018.
Foldable Dog Pet Pool Bathing Tub by FrontPet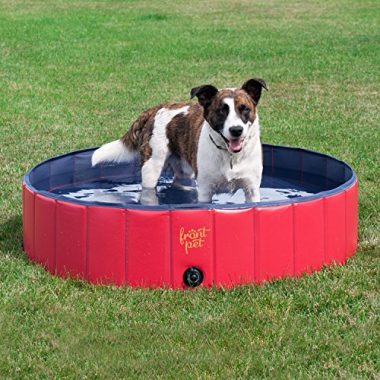 Foldable Dog Pet Bath Pool by Jasonwell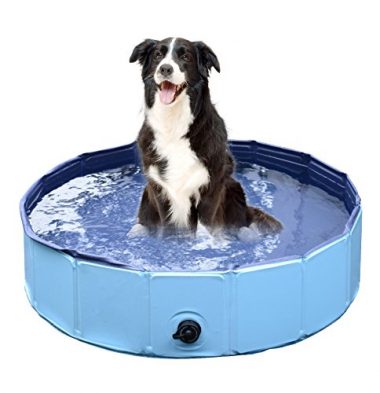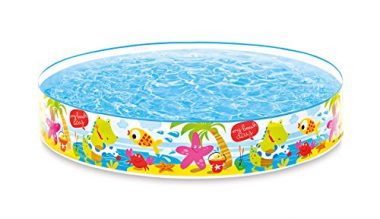 Foldable Pet Swimming Pool by Fuloon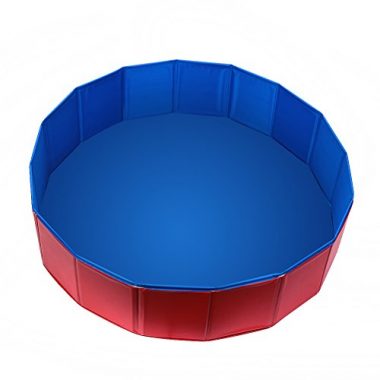 Bone-Shaped Dog Pool by One Dog One Bone

Splash About Dog Pool by Cool Pup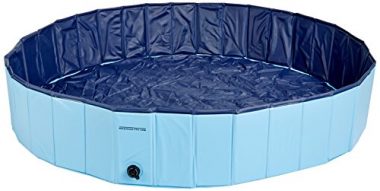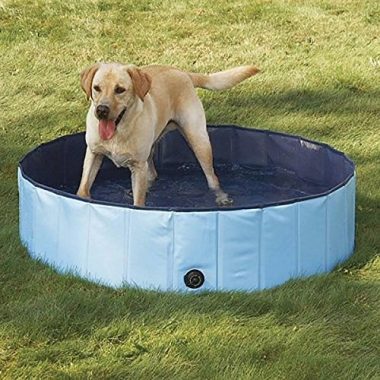 Paw-Shaped Play Pool by One Dog One Bone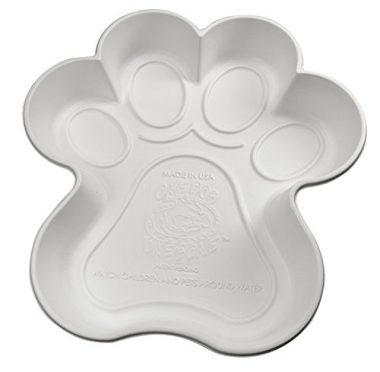 Outdoor Swimming Pool Bathing Tub by KOPEKS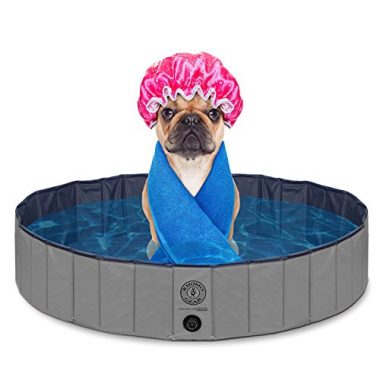 Foldable and Portable Pet Swimming Pool by Petsfit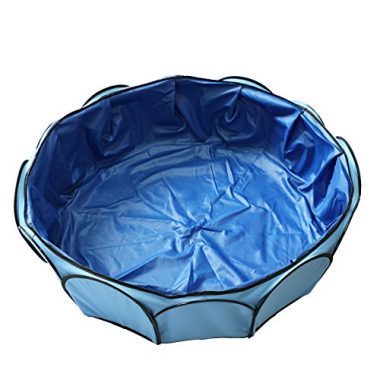 How to Safely Use a Dog Pool
Not all dogs love the water and will thus, enjoy a great time in a swimming pool. But for those doggies that have a knack for staying in a tub filled with refreshingly cool water, the concern is mostly related to their safety. Most experts recommend training dogs to ensure swimming pool safety. But, if you're only using a portable pool that is only several inches deep and fits only one or two of your pooches, a different approach may be considered. Here's how to safely use a dog pool.
Always choose the right doggie pool. 
This is already a given. As much as possible, you need to pick a doggie tub that's made of almost-indestructible material. Most of those available in the market today are made of durable PVC then lined with fabric material to improve its comfort. If you have the budget, it is better to get an accessory that comes as a one-piece design. This helps negate the risk of the pool bursting at the seams and injuring your dog. Heavy duty plastics should be tough for the job. At any rate, the product you choose should be puncture-, chew-, and scratch- proof.
The size of the doggie pool should also be taken into consideration especially if you haven't taught your pooch how to properly swim yet. Don't get a pool that is significantly deeper than what your pooch is capable of. Consider this as an introductory to swimming in the human-sized backyard swimming pool.
Train your dog in obedience. 
Before you even start considering various canine swimming pool safety tips you may want to invest time and effort in obedience training your mutt. The doggie pool may be shallow but it needs to understand and obey certain commands such as "come" if ever you want it to have a much safer time in the doggie tub. "Sit", "lie down", and "stay" may not be used in the pool but these can surely be used elsewhere. The point is that you will need to train your dog to follow your commands so you can help ensure its safety even in a shallow pool.
Never leave your pooch out of sight. 
You may have trained your dog to follow your commands but that doesn't give you the right to leave it alone in its kiddie swimming pool for dogs. Accidents happen all the time and mostly when you least expect it.
You May Also Like: Best Cooling Pads for Dogs
Learn pet CPR. 
As absurd as it may sound, learning how to perform CPR on your pet is very important and should never be taken lightly. The water may be shallow but your mutt can be too playful that it can actually drown because water will be entering its lungs and not the digestive tract. That is why you should also not leave your pet swimming unsupervised so you can jump right in and save your pet.
Protect it from the heat. 
Sure the doggie pool is cool. But did you know that heat is actually more intense near the water? It may be cool in the pool, but once your pet jumps out of it, it's exposed to an unusually high level of heat. So, make sure you have plenty of shade and provide your pooch plenty of water to drink and stay hydrated.
Getting your pooch any of the 10 best dog pools in 2017 could very well be one of the most sensible ways you can help ensure your mutt gets a really fun time while helping it cool itself from the summer heat. To help ensure your mutt truly enjoys its time in the pool, you'll also have to observe some safety tips. Give your mutt the best summer fun today.