The best puppy shampoo is a fundamental requirement to maintaining the optimum health of very young dogs. These canine hair care products are important in promoting optimum skin and coat health and preventing diseases and other health conditions that may arise from unhygienic pet skin and coat. Since these two organs essentially form the primary defense against foreign body invasion, maintaining their integrity is thus, crucial. The best shampoo for dogs and puppies can help maintain this integrity. But before we look at how you can select the most appropriate shampoo for your pup, let us first take a look at the 10 best puppy shampoos that are the result of our exhaustive research.
Natural Dog Shampoo and Conditioner by Paws & Pals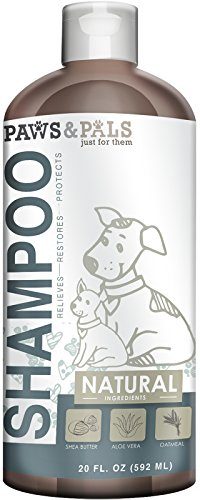 Professional Grade Sensitive Dog & Puppy Shampoo with Coconut Oil and Palm Oil by PET CARE Sciences
Puppy Tearless 2-in-1 Shampoo by Burt's Bees

Tearless Puppy Shampoo by Isle of Dogs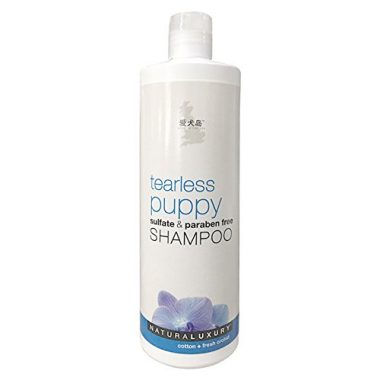 Pet Head Puppy Fun Shampoo and Conditioner by The Company of Animals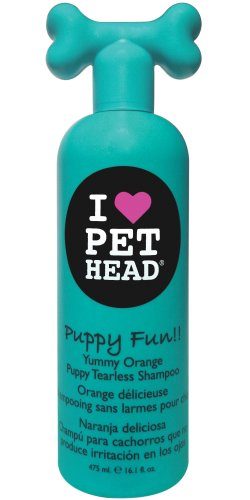 Oatmeal Naturals Shampoo by Oster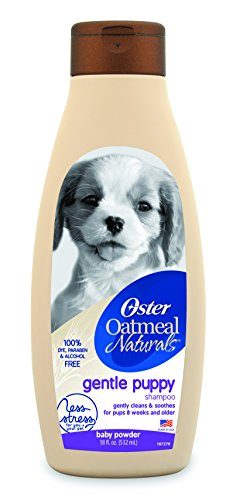 Puppy Shampoo by Pro-Sense

Supreme Odor Control Puppy Shampoo by Nature's Miracle

Puppy Shampoo by Perfect Coat

Veterinary Formula Solutions Puppy Love Extra-Gentle and Tearless Shampoo by SynergyLabs

Puppy Shampoo Buying Guide
Buying your first-ever puppy shampoo need not be very difficult. While we have already listed 10 of the best puppy shampoos to help keep your pup clean, we still acknowledge the fact that you might want to go on an adventure of your own. That's why we're providing you with this guide to help you gain a better understanding of why you need a puppy shampoo, how often you should bathe your pup, some helpful tips on how you can make puppy bath time a fun time, and how you can choose the right shampoo for your own puppy.

Do I Need to Buy a Puppy Shampoo?
A great number of novice pet owners, especially those who are first-time pet parents of puppies, often ask about the need to use especially formulated shampoo for puppies. The short, straightforward answer is "yes".
In the same manner as the teeth of puppies are anatomically and physiologically different from the teeth of adult canids, so too their fur or coat. Depending on the breed of your dog, a fully grown adult can have single to double coats and often thick. Puppies, on the other hand, have softer and fluffier fur that always develops as a single coat.
As pups grow into adult, they shed their 'puppy hair' and get replaced with the fur that is characteristic of a mature pooch. It is because of this difference in puppy and mature hair that puppies will require shampoo that is especially formulated to meet the more sensitive requirements of soft, fluffy puppy follicles.
Can I use human baby shampoo? 
Now, some puppy owners think that a human baby shampoo can also be used as an alternative to the relatively more expensive pup shampoo. Experts are divided on the issue. If the human baby shampoo is not medicated and is made of mild natural ingredients, then you can use this on your pup. The important thing to understand is that the formulation of the hair wash should be slightly more alkaline as dog skin is more alkaline than human skin, which is more acidic.
Is it okay to use adult dog shampoo? 
Some experts do recommend using adult dog shampoos on puppies, provided, however, that these are specifically formulated to mimic the unique requirements of the skin and coat of puppies. These should also not be medicated or contain any harmful ingredient. Most of all, these should be near the pH level of a puppy shampoo.
How about ordinary human shampoo? 
If you're talking about an ordinary human shampoo, under no circumstances should you resort to such a thing as human hair is different from a canine fur. While they may look the same, the morphology of human and canine follicles differs greatly. Many of these human hair care products are formulated to mimic the more acidic nature of the skin and scalp. Dog skin, on the other hand, is more alkaline in nature. Using ordinary human shampoo can lead to skin irritation, producing itching and redness. Once your pup starts to scratch on these areas, the skin can be cut, providing entry for microorganisms leading to inflammation and skin infection.
Related Read: Best Shampoo For Dogs
Conclusion
So, do you really need to buy a puppy shampoo? Yes, you do; unless, of course, you prefer to have your pup groomed professionally instead, in which case, buying shampoo for pups is simply a waste of your financial resources since your pet groomer will already provide one for your young pooch. Or, you can use a human baby hair care product that is guaranteed to be milder, slightly more alkaline, and doesn't contain any artificial chemical that might irritate your pup's developing coat. Frankly, there really aren't that many mild baby shampoos with these characteristics so you're definitely better off with a shampoo that's specifically formulated for puppies. 
How Often Should You Bathe a Puppy?
There was a time when pet parents bathed their pups only when the young ones were dirty. This is especially true if the pups are still with their mommy pooch. It was observed that mother dogs lick their young in an effort to 'cleanse' their coats, remove debris, and provide an antibacterial coating on their pups' coats.
However, times have definitely changed. While a mother pooch can clean her litter's coats, they clearly aren't going to stay with her until they grow to become adults. Most pups get separated from their moms and their brood as early as 3 months, some even earlier. What this simply means is that if you recently owned a pup, then you will have to take over the role of its mom. You don't have to lick its coat, too, however.
So, how often do you have to bathe your puppy? The answer, sadly, is not pretty straightforward. If you ask experts they will tell you 'not too often'. But this answer is rather vague. Some folks may consider bathing every other day to be the equivalent of 'not too often'. Still, others might interpret it as bathing once a month or even twice a month. In other words, there really is no clear-cut answer to the question about the frequency of bathing puppies.
Nonetheless, to give you an idea, most puppy experts say that the frequency of puppy bathing is quite dependent on the following factors.
Many pup experts say that you should bathe your pup when they begin to be noticeably smell or dirty. This simply means that if you can still 'tolerate' the smell of your pup, then there really is no need to give it a bath just yet. Regrettably, this only works if you're the only person the pup is interacting with. Your assessment of its 'smell' is highly subjective. It may still be okay with you but other people may already be put off by your pup's smell. The same is true with the degree of 'dirtiness' of the puppy. Some people are definitely more finicky than others. A speck on your pup's coat can already be interpreted by these people as 'dirty'.
Understand that the skin continuously produces and secretes natural oils to help provide lubrication to the hair shaft, giving it luster and smoother feel. If you are going to frequently shampoo your pup, you will be removing many of these natural oils which can lead to excessive skin dryness and irritation. You need to remove excess oils to allow your young pooch to produce new natural oils.
It's true that puppies have soft, fluffy single coat. However, they differ in the length of their hair follicles. The longer the hair the greater is the risk of it getting tangled with other hair follicles. If this is not addressed in a timely manner, these can turn into matting. This usually occurs because of the unusually long period of time in between bathing.
Tips on How to Bathe Your Puppy
You need to consider yourself fortunate for having a puppy in your life as you can be instrumental in its growth as a well-mannered dog. Regrettably, there are dogs that are especially averse to bathing for the simple fact that their early puppyhood bathing experiences have never been really pleasant. Bathing for them is almost always equated with punishment with their owners pulling them towards the bathtub and not being careful enough not to put shampoo in their eyes. This traumatizes young dogs which they will exhibit as aversive behavior related to bathing when they grow older.
As their pet parent, it is inherent in your role to train very young dogs how to enjoy bath time. Here are some useful tips on how to bathe your puppy.
It is always best to start bathing young pooches as early as 3 months old. Remember what we said about the mommy dog doing the cleaning of her puppies by licking their coats? It is a general observation that mother pooches stop cleaning their pups by around this time. It is thus, your job to continue the cleaning chores
Always make the bath time a fun time. There are certain breeds of pooches that really love the water. However, even those that are considered to be skittish in water can be trained to love the feel of water on their bodies. You can be as creative as you can. You can use your pup's favorite toys to entice it to go to the bathtub for its bath.
Sometimes it helps to play with your pup first. Remember that pups have tremendous amounts of energy. You don't want this energy to be overflowing during the bathing process, or else you risk turning it into a watery wrestling match. The idea is to use up this energy before you take them to the bathing area. If they are already too tired by then, they won't have enough energy left to resist you.
Mind the temperature of the bath water. Make sure that it is warm as this can help relax your pup's muscles. Avoid using cold bath water as the lower temperature of water naturally stimulates the muscles to contract. This tenses the muscles and your pup can readily feel it.
Keep off your pup's eyes, ears, and nose. These body parts are rather sensitive so they require a different approach in cleaning. Generally, you will need a clean piece of damp cloth to wipe off any dirt on these puppy body parts.
Make sure to work the puppy shampoo onto its skin. You want the shampoo to also clean the skin and not just the shafts of hair on your pup's fur. Moreover, massaging the shampoo onto your young dog's skin can help improve blood circulation while also relaxing the muscles some more.
Be systematic in your bathing process. Start at the head and work your way down towards its tail, making sure you have applied appropriate amounts of shampoo onto the hair and skin.
Rinse your pup very well. Any residue that is left on their fur can damage the strands, producing dry and brittle hair shafts.
Completely dry your pup's fur. You can encourage it to shake off excess water before drying it up with a towel. Experts don't actually recommend using hair dryers on pups even though these are especially designed for dogs. The good news is that puppies' furs are not really difficult to dry.
Always give praises or even reward your pup with a treat once you're done giving it a bath. This way it will learn to associate the bathing process with something that is pleasurable and rewarding.

How to Choose the Right Puppy Shampoo
Choosing the correct shampoo for your young dog can be a nightmare for some folks especially those who fail to recognize the important differences between a puppy's fur and an adult dog's coat as well as that of human hair. Thankfully, you don't need to live in such a nightmare anymore. Here are some things you definitely have to read in product labels to help you determine the right shampoo for your puppy.
We already mentioned that the skin of dogs is slightly alkaline compared to human skin which is more acidic. That is why you simply cannot use human shampoo on any dog. Likewise, the skin pH of adult dogs is also a little bit acidic relative to the skin pH of puppies. As such, if we are to arrange the skin pH levels of man, adult dog, and puppies, man will be on the acid side of the continuum while puppies will be in the alkaline side. The skin pH levels of adult dogs will be somewhere in between the two. As such, it is imperative to choose a shampoo that is more alkaline.
No artificial ingredients 
Just as you don't want anything artificial for your baby your puppy also doesn't need artificial ingredients. These are harsh chemicals that have been proven by science to bring some degree of harm to dogs. If these are already harmful to adult canines, then they are more harmful to pups owing to the still immature organ body systems of young dogs. Artificial fragrances and coloring are typically added in such products so you should steer clear off of these. Phthalates, formaldehyde, isothiazolinones, parabens, and nitrosamines are just some of the substances that you have to watch out for.
Most pet owners prefer scented puppy shampoos over unscented ones for very obvious reasons. If you also want your pup to smell really fresh, then you will need to choose a product that contains natural fragrances such as chamomile, rose, eucalyptus, and lavender.  These are safer yet equally fragrant alternatives to synthetic fragrances.
Presence of skin protectives 
If you can recall what we said about natural oils being produced and secreted by your puppy's skin cells onto the surface of its skin, this has the added function of protecting the skin. You can choose a puppy shampoo that contains natural skin protectives like aloe vera, oatmeal, or even vitamin E. This will help keep your pup's skin and coat healthy.
Specificity to your pup's overall health 
If there are specific skin conditions that are affecting your young pooch, it is always best to talk with your vet so he can advise you on what needs to be done. Depending on the health condition of your pet, it may be given shampoo that can help address seborrhea, pruritus, parasitic infestations, fungal infections, microbial infections, and even skin allergies.
Puppies deserve a shampoo that is especially formulated for their sensitive skin. With these tips and helpful guide on how you can choose the right shampoo for your puppy, we're confident that you are now more empowered to make the right decision.