The Pure Balance series of dog food was conceptualized and eventually realized by Walmart in 2012 as an answer to the ever-increasing need of dog owners for a naturally-balanced, optimum quality, and truly affordable canine food. True enough, the brand has grown wide acceptance even to canine lovers who are very particular about what they give to their respective pets. Walmart's extensive reach in consumer consciousness played well into the general acceptability of Pure Balance as a better alternative to high-end products which may not be readily available in supermarket or grocery store shelves.
This Pure Balance Dog Food review is primarily geared for dog owners who are feeding their pets with premium quality canine chow but would like something more affordable and more readily accessible and available at their favorite stores, without necessarily sacrificing the nutrient quality of the dog food they have been using for so long. Hopefully, this article will also be helpful for those who want to move their dogs from a diet of mediocre quality, nutrient-deficient chow without having to worry about breaking their bank.
Our Picks of the Best Rated Pure Balance Dog Food
Grain Free Formula Salmon & Pea Recipe Food for Dogs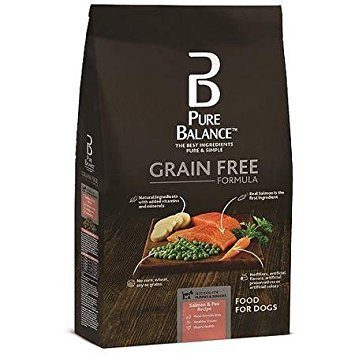 Wild & Free Bison, Pea, and Venison Recipe Food for Dogs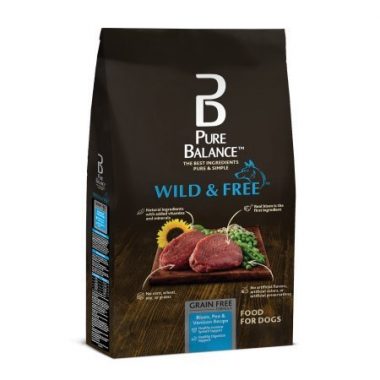 Grain Free Chicken & Pea Recipe Food for Dogs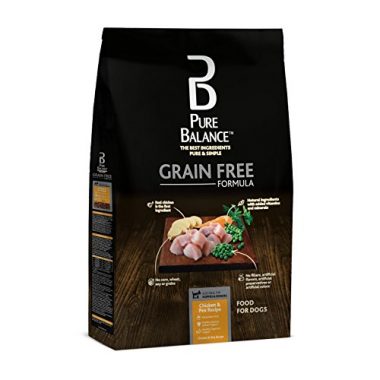 Pure Balance: Buyer Guide and Review
This Pure Balance dog food review aims to provide you with an in-depth analysis of the ingredients of this particular brand of doggie chow. Hopefully, this will enlighten you on whether to buy a Pure Balance canned dog food or dry kibbles or stick to what your dog is already eating.
Ingredient Analysis                                 
Walmart's Pure Blend brand of dog food provides follows the nutrition profile of other dog food brands that utilize premium quality ingredients and real animal proteins as its primary ingredient. The good news is that even if it does provide for such ingredients, Walmart somehow managed to keep its prices well within the budget range of average-income dog owners. It is this excellent combination of nutrient profile and affordability that makes Pure Blend dog food products a favorite alternative to premium ones.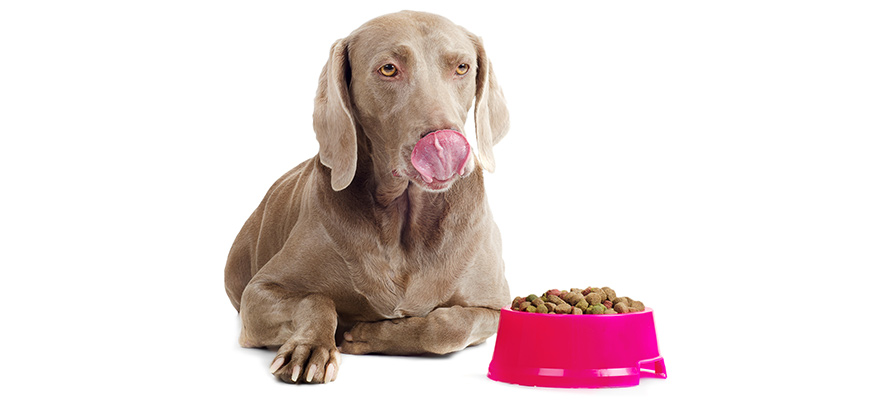 Let us take a closer look at the ingredients of Pure Blend.
In this Pure Balance dog food review, we observed that the very first ingredient of our top 3 picks are real animal proteins like salmon, bison, and chicken. With the exception of chicken, we can say that the formulation of Pure Balance reflects a clear understanding of the increasing need for more novel proteins because of the ever-growing incidence of food allergies that are attributed to the consumption of proteins that are now considered to be 'common'.
Salmon is often touted as one of the best sources of omega-3 fatty acids particularly DHA and EPA. These function in both the enhancement of brain and eye development and the boosting of the immune system, respectively. However, it should also be noted that while salmon is rich in DHA and EPA, it is essentially composed of 80% water or moisture. As such, when it is processed for formulation into dry kibbles, you can expect that the DHA and EPA content will also be significantly reduced. Nevertheless, the inclusion of salmon meal into the mix can help provide for better protein profile. Plus, salmon is rich in vitamins and mineral including calcium, potassium, magnesium, iron, selenium, and phosphorus.
Bison is a novel protein for the simple fact that it is rarely given to dogs as pet food. Bison meat contains as much as 55% protein and 45% fat and provides a complete list of the essential amino acids that dogs will need for building tissues. It also contains EPA and DHA as well as omega-6 fatty acids.
The same is true with deer meat or venison being a novel protein. What differentiates venison from bison meat is that it has more protein at about 60%. It comes complete with essential amino acids, too, and a near-ideal omega-6 to omega-3 fatty acid ratio of 2.1:1. It's rich in phosphorus, potassium, magnesium, and calcium, too.
Chicken remains the quintessential animal protein for dogs. If your pooch doesn't really have any issues with food allergies, then this is still one of the best proteins to give.
Pure Blend also provides proteins sourced from plants, particularly peas, which provides anywhere between 25% and 35%. One thing that is worth noting is that these also provide alpha-linolenic acid or ALA, an omega-3 fatty acid that, technically, is not clinically significant in any way since it has to be converted by the dog's body into DHA and EPA for it to have a clinical benefit.
This is where our concern lies with the Pure Blend since it lists ALA in its guaranteed analysis. Our research of current scientific literature reveals that dogs are not particularly efficient when it comes to transforming ALA into either DHA or EPA. That is why experts strongly recommend directly providing dogs with EPA and DHA. As for the clinically observable benefits of ALA, most of the dog food reviews that claim ALA to be a potent antioxidant most likely are referring to another ALA – the alpha lipoic acid. Technically, they are both ALA – alpha linolenic acid and alpha lipoic acid. But they are different. One is an omega-3 fatty acid while the other is a type of organosulfuric compound that is derived from the octenoic acid caprylic acid. Another difference is that one is found only in plants while the other is normally synthesized by animals. One also doesn't have any clinically significant benefit while the other is an antioxidant. So, which is which?
Maybe it's time for dog food manufacturers to set the record straight whether the ALA they put in their labels refers to the antioxidant, animal-sourced Alpha Lipoic Acid or the plant-based, EPA and DHA precursor known as Alpha Linolenic Acid.
In some of their products, Pure Balance provides a variety of resistant starches such as potatoes and a variety of fruits and vegetables. These are known to improve insulin sensitivity for a more efficient metabolism of glucose as well as more ideal body weight. While the resistant starches contained in Pure Balance are minimal, it points to the company's understanding of optimum canine nutrition.
In addition to the ingredients we have listed above, Pure Balance also provides for healthier carbs mostly sourced from vegetables and fruits. Not only do these provide fiber for healthier gut, these also supply dogs with the correct levels of vitamins and minerals that function in a variety of processes including anti-inflammatory, antioxidant, immune-enhancing, neurologic, and musculoskeletal health. At any rate, it is this combination of multivitamins and minerals with phytochemicals that makes Pure Blend products truly valued in this department.
Looking closely at the product lineup of Pure Balance, it contains an average of 31% protein and 17% fat with an estimated percentage of carbohydrates computed at around 45%. Pure Balance products also provide a fat to protein ratio computed at 54 percent. Taken as a whole, the products of Pure Blend can be taken as having near-average fat and above average protein. Its carbohydrate profile is considered to be below average. What is quite noteworthy is that, while its principal ingredients are animal proteins, given the fact that majority of the listed ingredients are still plant-based, it is safe to assume that the amount of meat included into the formulation of Pure Balance is moderate.
Pros
Good balance of proteins and fats
Moisture and fiber content are at par with premium dog food brands
Uses real animal proteins as principal ingredient
Includes novel sources of carbohydrates to minimize food intolerance
Readily available since it is manufactured by and sold at Walmart
Friendly price
Cons
Except for its price and its brand name, there's really nothing substantially different from other dog food products
Less than satisfactory customer service support
Pure Balance Grain Free formulations offer a more practical solution to dog owners who may require premium-quality ingredients for their dogs. Unfortunately, there really is nothing spectacular to distinguish Pure Blend from other products except for the fact that it is produced and sold by Walmart. The protein and fat contents are considered above average. When taken together with its pricing scheme, this is perhaps one of the primary reasons why you might want to get Pure Balance for your pooch especially if you have a Pure Balance dog food coupon you can redeem at Walmart.
You May Also Like
Top Rated Wet Dog Foods
Recommended Senior Dog Food
Best Grain Free Dog Foods