While there are various types of food products for your pet, dry dog foods remain one of the most preferred, not only by pet owners but also by veterinarians. Sadly, not all canine kibbles are formulated for your pet's optimum nutrition. That's why choosing a healthy dog food is a must if we want our furry 4-legged friends to grow to their optimum. Here are some of the planet's best dry dog foods which you can consider including in their diet.
Canine Formula by Taste of the Wild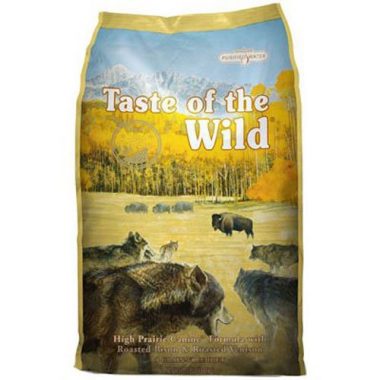 Blue Life Protection Formula Adult Dry Dog Food by Blue Buffalo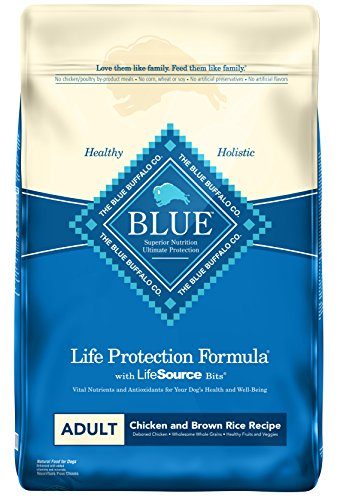 Zero Grain Natural Dry Dog Food by Rachael Ray Nutrish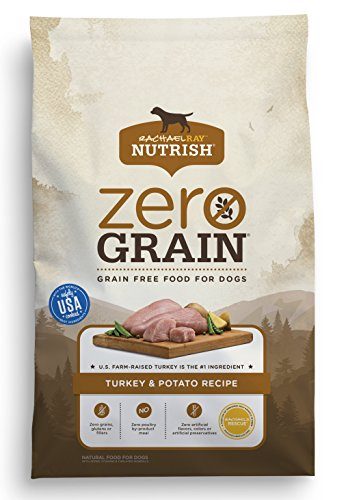 Wellness Complete Health Natural Dry Dog Food by Wellness Natural Pet Food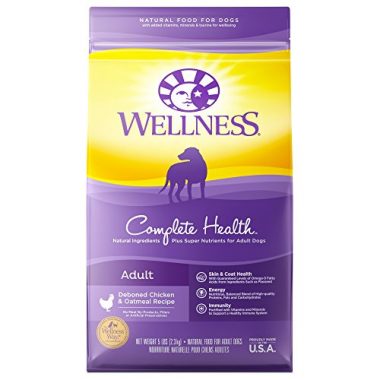 Complete Nutrition Dry Dog Food by Pedigree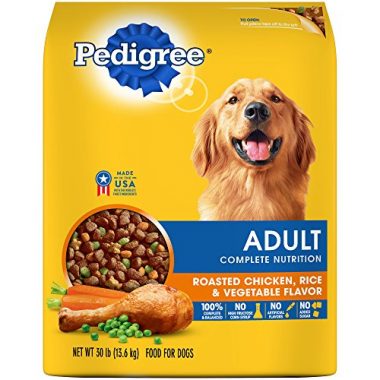 Grain Free Dry Dog Food by Merrick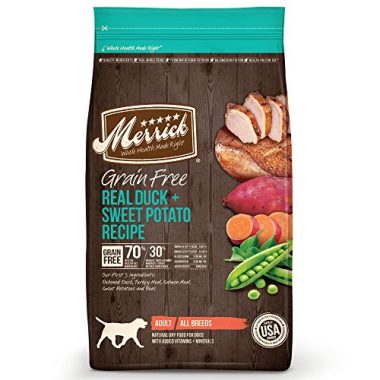 Natural Dry Dog Food by Eagle Pack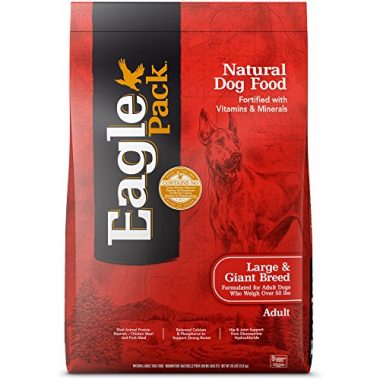 Natural Grain Free Dry Dog Food by Wellness Core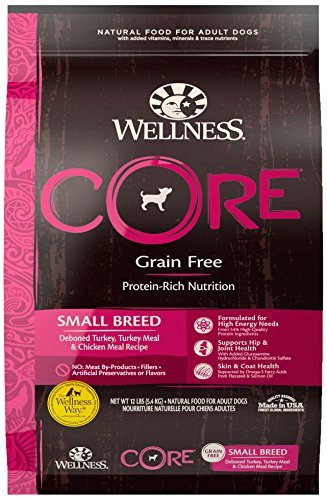 High Protein Grain-Free Adult Dry Dog Food by BLUE Wilderness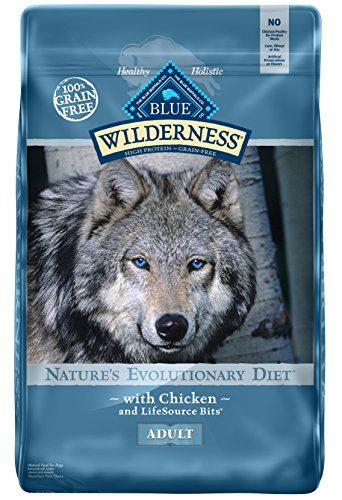 Adult 7+ Active Longevity Chicken Meal, Rice & Barley Dry Dog Food by Hill's Science Diet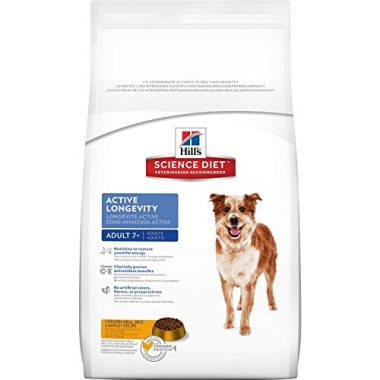 Life Stages Dry Dog Food by CANIDAE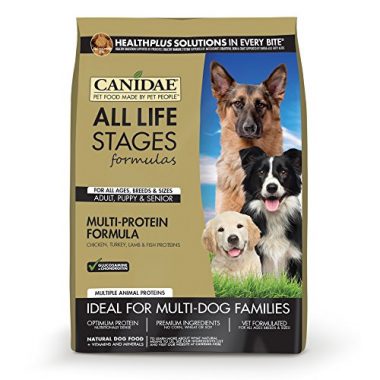 Whole Earth Farms Grain Free Recipe Dry Dog Food by Merrick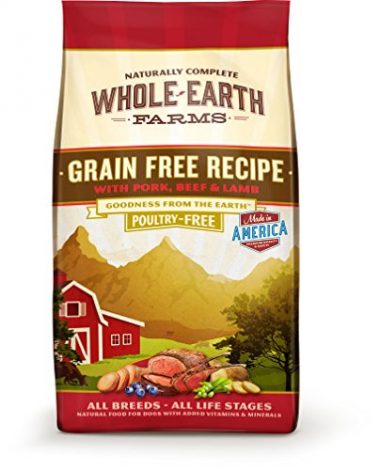 Dry Dog Food Buying Guide
It is so easy to tell someone to feed his or her dog with only the best, healthiest, well-balanced, and high-quality dog food. Unfortunately, knowing where and how to start can often be intimidating especially among newbies. While everyone knows that optimum canine nutrition can lead to healthier, shinier, and smoother coats, stronger immune system, and even more efficient digestive system, not many actually know how to buy high quality dog food. We've collected tips and pieces of advice from leading canine nutrition experts to let you in on their secrets when it comes to buying healthy dog food.
Learn as much as you can about the contents of a healthy dog food. 
Different canine kibbles come with a variety of ingredients. Some provide what is labeled as 'real meat' while others will put in 'meat-flavored' ingredients. Regardless, one of the surest ways you'll find the best kibble for your canine is by learning what a healthy dog food should contain.
Currently there are guidelines that have been formulated by the Association of American Feed Control Officials designed to regulate what doggie food manufacturers can and cannot put into their respective labels. This is important as failure to comply with these so-called nutrition 'standards' should always be considered as red flag and should not be purchased.
For example, if a particular doggie foodstuff you are considering is labeled as a 'single ingredient' pet food, that it should contain not less than 95 percent of that particular ingredient. For instance, if you bought a dry kibble whose sole ingredient is chicken, then it should contain 95% chicken. Likewise, if the product contains a variety of ingredients, the bulk of these ingredients should amount to not less than 95 percent of its weight.
If the kibble labeling includes words or phrases such as 'entrée', 'platter', or even 'dinner', then these foodstuffs should contain not less than a quarter of the identified ingredient. For instance, you may read 'chicken platter' or 'turkey dinner'; then these products should contain not less than 25% of chicken or turkey, respectively.
In like manner, if the product label reads "with" a certain ingredient, then the composition of this 'ingredient' should only contain no more than 3 percent of the foodstuff. For example, if the label reads "chicken with peas", then you know that its composition should be at least 95% chicken and at most 3 percent peas.
For kibbles that say they contain specific "flavors" it is important that these "flavors" only comprise a detectable, almost negligible, amount. Let's say a product comes with the labeling "with beef flavors" should only have very minute, yet detectable, amounts of this "beef flavoring".
So, before you start digging deeper into the different ingredients of your pet's doggie food, make sure you understand what these "labels" should mean.
Read and understand the product's nutrition standard statement. 
The first step in the selection of a healthy dog food is determining the "nutrition standards" observed by the pet food manufacturer in relation to the guidelines set by the AAFCO. Always remember that the ingredients that are listed on any product's label correspond to their weight and are mostly expressed as percentage of a particular serving size. The ingredients are often listed in order of decreasing weight so you can expect 'heavier' ingredients to be at the top of such list.
Regrettably, this is where some issues arise, especially in dry kibble formulations. The weight of these "heavy" ingredients is typically measured before dehydrating the product. Once the ingredient has already been dehydrated, its weight may no longer be equal to what is actually printed on the label. The reason is quite simple. Meats like poultry, fish, and livestock typically contains 70 percent water. When they are prepared, these are mixed with other ingredients to make up the batch of doggie food. Once all the mixing and cooking has been completed, the entire mixture is dehydrated or its water content is removed. Now, if this happens with moisture-rich food items, you can imagine what will happen to the key nutrients that are often found at the bottom of the list.
That being said, it pays to know that what the packaging says it contains is more a reflection of its pre-dehydration measurements.
Consider wholesome grains and glutens included in the kibble. 
A lot of health-conscious folks are shying away from grains and glutens in dry kibbles. Don't believe us? Just look at all the amazing products in the market today and you'll see a lot of labeling such as "gluten-free" and "grain-free", as if these food items are evil.
In an article written by the American Kennel Club entitled "Can Dogs Eat Wheat and Other Grains?" a number of misconceptions about grains and glutens for canines were eventually refuted. For starters, dogs need carbohydrates as energy source; well, at least not as much as humans do. While it is true that their canid cousins in the wild thrive on meat-based proteins, our domesticated pooches have evolved to allow the digestibility of certain types of carbs. And the carbs that are often used in dog food are especially designed to be digestible.
Folks are also wary of allergies to such ingredients. However, studies show that allergies due to grains and gluten are not any higher than allergies to other types of food such as chicken, poultry, and even beef. By the way, did you know that 4 of the 5 top allergens present in food are actually from animal sources including beef, dairy, chicken, and eggs? Wheat gluten is considered an allergen primarily because of its high protein content. But given the fact that it ranks number 3 in the top allergenic food items such as the ones we've already mentioned, it should still be considered as a great food product for doggies for its amino acids and 99% digestibility. Here's another trivia: gluten allergies are very rare in pooches.
It should also be understood that contaminated grains, such as those that have been infested with mites, may produce allergies to susceptible dogs. However, getting a product with good manufacturing practices should give you the peace of mind related to the safety of their ingredients.
So, it's perfectly alright to give your pet kibbles that contain gluten and grains. It's also perfectly alright if you choose not to give these to them. It's your choice.
Understand what 'byproducts' really mean in these pet foods. 
There is this popular notion that byproducts, like gluten and grains, are bad for your pooch. We're not saying that it's good, either. Just like what we have already said in the beginning, it is important to read and research on the different ingredients that you encounter. Just because you see the word "byproducts" you should already stay away from it.
If the said "byproducts" happen to be hooves, hair, or even horns, as many advertisers and marketers want you to believe, then these products should be avoided at all cost. However, if the "byproducts" are actually internal organs like lungs, heart, kidneys, and liver, then by all means, get this product. Why? These internal organ meats are composed of nutrients that your pooch can utilize for a variety of reasons. These are nutritious meats that have been included in the final mixture of the dog food to give it its exceptional nutritional profile.
We know that not all of us actually love to eat internal organ meats. And if you're a fan of Fear Factor, you know what we're talking about. We often consider these meats as gross and unhygienic. But in many cultures these are either valued delicacies or are part of their daily diet. And here's the good thing: they don't get sick eating these things.
And if you firmly believe that dogs should eat what their ancestors in the wild eat, you should ask yourself this – do wild canids deliberately leave the internal organs of the prey they are devouring? Do they feast only on the flesh? If your answer is "no", then why should our domesticated canids eat any different?
The thing is that we are simply projecting our fears into our canine friends. Because we are morbidly afraid to try out these internal organ meats, we also tend to think that our pets will also be fully grossed out by it.
Furthermore, reputable manufacturers of doggie food only use high quality byproducts. So, if you're not really sure about the ingredients, particularly byproducts, then by all means, try to research some more. Also, it would help if you will choose only trustworthy and highly reputable companies.
Read and understand the statement of nutritional adequacy. 
Here's another tip for you when buying a healthy dog food. Always read the label and try to understand the nutritional adequacy statement of the product. Some products are designed to be given to all dogs regardless of breed and size. There are also those that are specifically for growth and reproduction. Some products are also formulated especially for puppies, sick dogs, elderly dogs, and even pregnant pooches and lactating mutts. The point we're trying to make is that you have to understand what type of dog the kibble is especially designed for. Is it for a canine with arthritis problem? How about a pooch with severe skin itching and hair shedding? There is a reason why manufacturers put these 'statements' in their labels. It is so you will be guided properly on whether such product is appropriate for your mutt or not.
Look for information about any feeding trials. 
Reputable manufacturers of doggie foodstuff always include some paragraph about the feeding trials that they or a third-party organization has conducted in relation to the generation of a conclusion that led to the formulation of the nutritional adequacy statement. That being said, if the product states that it has a well-balanced formula for dogs that are suffering from joint problems, then it should also contain a paragraph about what tests or feeding trials were done to justify this claim. More importantly, however, is the validity of their tests. If they conducted the feeding trials on healthy pooches without joint problems, do you think it's right to say that their product is good for dogs with arthritis and other problems of the joints?
Consider checking the guaranteed analysis. 
Another piece of information that should be present in all healthy dog food products is the guaranteed analysis of its ingredients. This is often expressed as percentage of proteins, fats, moisture, and fiber. Both proteins and fats are expressed in the minimum while fiber and moisture are printed in their maximum. For example you may get a product with a minimum of 40 percent protein and 20 percent fat and a maximum of 8 percent moisture and 10 percent fiber.
Understand that this is a very rough estimate of the nutritional profile of the doggie foodstuff. Why? Well, how do you know the actual percentage of 'minimum 40 percent protein"? Is it 41% or 45% or maybe 40.1%? The same is true with fibers and moisture. If it says "maximum 8 percent moisture", does it mean 7%, 6%, or 1%? So, there really is no telling the 'actual' percentage composition of the nutrient being described.
Additionally, guaranteed analysis doesn't give you information on the digestibility of the ingredients nor will it give you information about its quality. Again, it only gives you a rough idea of what you're giving to your pooch. If you want a high protein diet for your pooch, then knowing that it contains at least 40% proteins should be enough.
Don't forget to seek the advice of your veterinarian. 
Most of us only consult our veterinarian if our pets fall ill or are scheduled for their regular immunizations or vaccinations. The thing is, your veterinarian is actually more than capable of providing you insight on what food to give to your pet. It is crucial to take cognizance in the fact that the type and quantity of food that your pet should consume are actually dependent on your pet's genes, age, reproductive status, and lifestyle. In many cases, your veterinarian will be performing a comprehensive canine body condition evaluation to determine the right kinds and amounts of food your pet should be taking. You can then use this information to tailor-fit your search for the best dry dog foods.
Dig deeper into your chosen pet food.
If you've narrowed your choice of the best possible doggie food, do everything you can to find out more about the company or companies that manufacture them. Highly reputable companies manufacture their products in their own facilities rather than having these sourced elsewhere. This is important as companies that manufacture their own products are bound to observe very strict rules and regulations related to the safety of their products. Why would you want to know the quality control and sourcing information of pet food companies? Well, they are not legally mandated to put these pieces of information on their product labels. So, you have to really dig deeper into their manufacturing practices to get an idea of the quality control activities that they employ. This gives you an idea whether the product you've chosen is indeed of the highest possible quality and safe for your pet or not.
The different points we have just shared with you may look tedious to accomplish. However, all of these pieces of information should already be present in the packaging itself. You can use the knowledge you have gained so far to help you buy the best possible healthy dog food in your area. 
What to Consider When Buying Dry Dog Food
In the preceding section, we talked about some of the things you may need to observe when buying foodstuff for your pet, especially dry kibbles. Since almost all the information you will be evaluating are already found in the label of the product, you may now have to consider some other things that will help you determine whether your choice is actually the most appropriate for your pet or not. Here are a few things you may need to consider when buying dry dog food.
Age and health condition of your pet 
Even before you start picking a product from the shelf of your favorite pet supplies store, make sure you have a very clear understanding of the nutritional needs of your pooch. Most of us have this idea that, if we cannot feel the ribs in our pooch's chest, then they can be considered as 'healthy'. We already mentioned above that seeking the advice of your veterinarian is crucial to helping you decide on what kind of food you need to give to your pooch. Remember, too, that different dogs in various life stages have different nutritional needs. And if they happen to have a medical or health condition, this can also significantly affect the type of food that they can eat.
Proteins and fats first, carbs last 
We did mention in the preceding section that it is perfectly alright to give our pet dogs carbs. We even said that it's okay to give them grains as well as wheat gluten primarily for its high protein content especially amino acids. Hopefully, we did not leave the impression that you should choose dog food that is rich in carbohydrates.
Dogs are not obligate carnivores, unlike cats. Members of the Canidae family are now known to be omnivores – fully capable of eating both animal and plant types of foods. However, they do require higher amounts of protein and fats in their diets as these provide the necessary building blocks for continuous tissue and organ development as well as for healthier nervous and integumentary systems. In the wild, canids are known to consume as much as 65% protein and 30% fats with the remainder divided among carbs and other nutrients.
This does not mean that you have to strictly adhere to these nutrient proportions. What we strongly recommend is to look for a product that has excellent proportion of proteins and fats in relation to carbs. Recall what we said about the minimum-maximum percentages in dry dog food nutrient compositions where proteins and fats are presented in the minimum while fiber and moisture are presented in the maximum? This is where you're going to use this information.
Clearly identifiable ingredients 
Just as the complete nutritional information of a product is important, it is also essential that the ingredients printed on the label is clearly identifiable. If it only says "real meat", you might be inclined to ask yourself "meat from what"? Is it chicken? Turkey? Deer? Wild Boar? The thing is that these products should clearly state the ingredients that are contained in each bag of these doggie foodstuff.
Even dry dog foods have their expiration dates or "best-by" dates. Some manufacturers may put this as "best before" date. Now don't be confused with these forms of labeling as we'll try to explain them to you. A product that has a "best by" date means that it can be consumed until that date, retaining the full spectrum of flavors and high-quality goodness that are embedded into the food product. This means that a "best by" date will give you an idea of a product's shelf life without losing its quality. Beyond the "best by" date, the quality of the food already starts to diminish.
On the other hand, the expiration date of a food product, be it for human or canine consumption, reflects that point in time when consumption of the product is no longer recommended by the company. Technically, the manufacturer is telling you not to feed your dogs with it once the expiration date has been reached. If you decided to give it to your pooch nonetheless, and something went wrong, then you are actually freeing the company of any liability. They told you so.
There are no standard rules as to the minimum best-by date that you should consider getting. Experts suggest that a product that has a best-by date which is still about 10 or even 11 months away can be considered as ideal as it usually means the food product was manufactured just recently. 
Related Read: 10 Best Wet Dog Foods

What to Avoid with Dry Dog Food
Just as there are things you need to look for that are important in a healthy dog food, there are also things that you simply have to avoid. We have already discussed some of these in our preceding discussions, although it wouldn't hurt to specify what ingredients to avoid with dry dog food.
Low-quality meat and / or poultry byproducts 
We already said that byproducts are not essentially bad. However, it is crucial for you to really dig deeper into the kind of byproducts that have been included. This is where your due diligence pays off. Anything that comes from a low quality source or from questionable blends of byproducts should thus, be avoided.
Generic protein and fat source 
Be very careful about labels such as "whole proteins" or even "healthy fats" as these do not really identify the source of the protein. You may think that it is "whole protein" but this macronutrient can actually come from anywhere. As such, if the labeling is vague, skip it and get the next product in the shelf.
Artificial ingredients – sweeteners, preservatives, coloring 
Only natural ingredients should be used in the formulation of healthy dog food. There are also natural ingredients that can serve as excellent preservatives. That being said, it is important to be familiar with the most common artificial sweeteners, coloring, flavorings, and preservatives that are often used in many food products. Make sure that these are not present in the dog food that you're buying, otherwise get another product.
Fillers and / or low-quality grains 
We also mentioned that grains should not be excluded from your pet's diet. As you may have already noticed some of our selection of the best dry dog foods actually contain wholesome and healthy whole grains such as brown rice, barley, and oatmeal. These provide great health benefits. What you really should avoid are fillers that do not add to the nutritional profile of the dog food. Additionally, low-quality grains should also be avoided.
Giving our pooches only the highest quality of dry dog food is crucial to ensuring their optimum health and wellness. By looking closely at the labels of these products and understanding what those statements and information printed on the label mean, you can also arrive at the best possible choice for your pooch. Just remember to always look for natural and wholesome or high quality, healthy ingredients.