Nothing can guarantee to turn heads a lot better than walking a dog in full costume. Where it's the Minions or Master Yoda outfit, fully costumed pets walking in the park or even in malls where dogs are allowed are sure to stop people in their tracks and elicit some oohs and ahhs. Many might even take a snapshot or even shoot a mini clip of this 4-legged mascot. If you'd want your dog to be the center of attention and boost both your egos, then you might want to consider our top ten dog costumes in 2016.
Top 10 Dog Costumes In 2016
Lion Mane for Dog by Dogloveit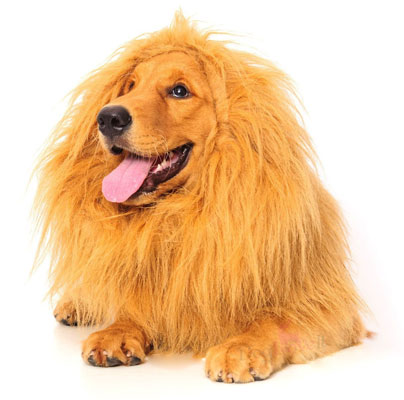 Make your dog the star of the show by making it the king of the jungle with Dogloveit's Lion Mane. We'd have to say this is the simplest yet very effective way to add a little pizazz to your canine pal. We're pretty sure people will be taking a really long and hard look at what you have at the end of your leash as you walk down the street. People might even think that you have just created a lion-dog hybrid complete with a tuft of lion's tail end. To be effective, your mutt must be colored brown to really mimic the golden brown coat of the king of the jungle. A brown Labrador retriever or even an adult Chow Chow would definitely fit the bill. The package essentially comes with the lion mane wig which can be easily worn around your hound's neck. Fit the lion's tail at the tip of your pooch's tail and watch it wag around like the king that your pet really is. Made of a combination of real fur and high quality 100 percent polyester, the Lion Mane features a soft inner lining so it will not irritate your pooch's skin. Cleaning or washing the mane is also easy as you just pop it inside your washing machine. Here's the best part. Dogloveit promises that if you don't receive the lion's tail as a free gift, they'll give you a 100 percent refund, no questions asked. How's that for a cool outfit?
What we Like about It – We really have to say that this could be perhaps the most unique getup you can ever get for your four-legged pal. And we're pretty sure everyone else will be having photo-op sessions with your furry friend.
DC Comics Robin Big Dog Boutique by Rubie's Costume Company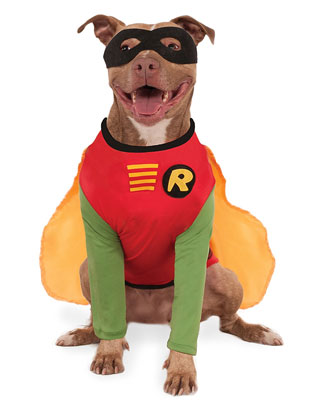 Do you think it's about time Batman needs a hand fighting crime in Gotham? To be specific, 4 hands or feet? Now, that would be quite spectacular, right? Imagine Batman facing off with The Joker, Two-Face, Penguin, and the rest of Gotham's villains with his very own four-legged sidekick. Your dog can take on this role with the DC Comics Robin outfit. Sporting the official Robin uniform from the DC Universe, this canine outfit comes complete with an orange cape to really mimic Robin's signature short-length cloak. The red shirt includes the signature "R" logo of Robin and a green long sleeved shirt. The best part of it is that it already includes Robin's iconic mask. Made of 100 percent highly durable and hand washable polyester, the DC Comics Robin outfit is perfect for those canine parties where everyone else is expected to come in their best getup. The outfit is primarily intended for Labrador retrievers, Springer spaniels, and Pitbull terriers as well as other muscular and large breeds of dogs.
What we Like about It – Too bad the DC Comics Robin doesn't have the lower garment of Robin. That would have really completed the outfit. Nevertheless, the styling and the design make this a truly unique way to strut your canine friend's natural paw-y and bark-y super powers.
Turtle Shell Pet Backpack by Rubie's Costume Company
What if Leonardo, Rafael, Michaelangelo, and Donatello mutated into dogs but were able to retain their green turtle backs, would you not be amazed? The first time we saw the Turtle Shell Pet Backpack, we didn't really know what to make of it. Sure, we knew that it was a turtle half shell but we just couldn't imagine how our mutt would look with this backpack on its back. Then, we tried superimposing the image on a picture of a Pug as well as a Beagle and we knew that this is going to be a real head-turner. People will be looking at a turtle that is as fast as a cat. We found the Pug to be the most ideal breed to wear the Turtle Shell Pet Backpack although Rubie's recommend a Bull terrier, a Schanuzer, a Boxer, a Weimeraner, a Bulldog, and a Beagle to be equally ideal. The turtle shell is beautifully designed in the hexagonal plates that has become synonymous with turtle shells. It even comes with a turtle tail. Both the shell and the tail are made of ultra-soft fabric so that your mutt will be comfortable wearing it. A cushiony strap secures the outfit around your dog's waist and over its shoulders. The Turtle Shell Pet Backpack also features a secret storage space in the shell itself which can be accessed through a zipper. If your dog wear this, we guarantee people will be snapping pictures of you both.
What we Like about It – What is amazing about the Turtle Shell Pet Backpack is the realism of the design. The turtle tail is an added bonus. And since it works more like a harness sans the leash, putting it on is a breeze.
Star Wars Classic Jedi Robe Pet Costume by Rubie's Costume Company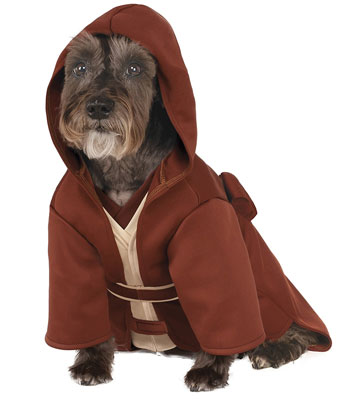 The Jedi Council is actually composed of beings with excellent command of The Force. We're pretty sure, with the correct training and motivation, your French bulldog, Pug, Boston terrier, Jack Russell terrier, or even Maltese will be able to wield the power of the force and bring the Empire and the New Order to justice with Rubie's medium-sized Star Wars Classic Jedi Robe. This cloak is patterned after the Jedi Masters and Jedi Knights completed with a make-believe cream-colored inner robe and a Jedi Master's belt. The good thing about this canine outfit is that it is officially licensed by the original creators of the Star Wars saga, Lucas Film, Ltd. At least, you can bet that when you and your pet take a walk around the neighborhood, in the park, in the beach, or anywhere else, everybody will feel the commanding presence of your canine pal. The fabric material is made of super-durable yet ultra-soft polyester to give your mutt the comfortable wear that it deserves. The hood actually resembles those we've seen Obi Wan Kenobi and Quai Gon Jinn had used in training their respective Jedi apprentices. The Star Wars Classic Jedi Robe comes in small, medium, large, and extra-large sizes.
What we Like about It – The different sizes of the Jedi Robe means that there's one Jedi cloak for any breed. Its simple yet classic design is what we really loved about the getup.
Christmas Collection Pet Costume by Rubie's Costume Company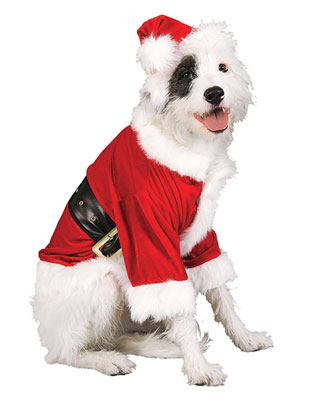 Every year, people love to play Santa. Why not give your mutt a chance to play nine different Christmas characters to make this holiday season a bit more interesting? The Christmas Collection set is an assemblage of nine different costumes that your mutt will be able to wear. There's the Santa Claus hat and beard, a Caroler's hat, a Xmas candy cane tutu, a snowflakes collar, a plaid collar, a green and red bells collar, a green and red tutu, an elf's hat with ears, and an elf's hat with bell. Get any one of these costumes and go Christmas caroling. Train your dog to sing with you the different tunes of the yuletide season and people just might give you an early Christmas present. Each of these outfits are made of high-grade, soft, and washable polyester so cleanup should not really be your concern. And while the theme of the costume may only be relevant for a month of the year, you can actually have these accessories during your pet's photo shoot. The accessories can be adjusted and secured in place by an underchin strap.
What we Like about It – We definitely love the Santa Claus hat and beard selection as our mutt looked really cool wearing it. We would have wished that all of the accessories were packaged as one set instead of being made available individually.
Squirrel Pet Costume by Rubie's Costume Company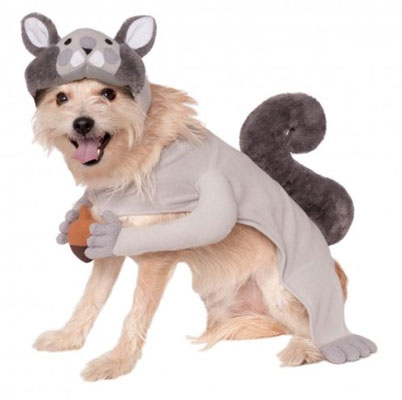 Squirrels are some of Mother Nature's most lovable creatures. They may be considered as pests by some but are highly regarded by others. You can now turn your hound as a lovable squirrel with the Squirrel getup from Rubie's. The design of the pet apparel closely resembles that of a squirrel complete with a furry tail that gently curves upward and then outward mimicking the natural contours of a squirrel's tail. The forelegs of the squirrel function as a strap that conveniently and easily wraps around the chest of your hound. The hind legs of the squirrel hangs loosely on the sides of your dog's own hind legs. The deftly designed squirrel head has a hole underneath where your pooch's head will be poking out. Technically, the Squirrel Pet will look more like a cape complete with a squirrel's head and tail. The bodysuit is made of high quality polyester.
What we Like about It – The squirrel design is superb as it does contain the fundamental features of this lovable creature. The details on both the head and the tail are simply superb.
Yoda Dog Costume by Rubie's Costume Company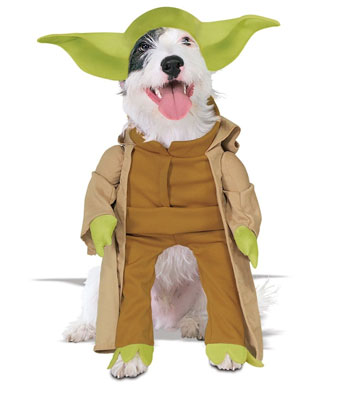 The best things in life definitely come in small packages. Just look at Master Yoda. He may be small but the way he utilizes the Force can give the impression that he is much bigger than all other characters in the Star Wars saga combined. And if you're an avid fan of Star Wars especially the Jedi Master Yoda, then we're pretty sure you'd want to get for your canine pal the Yoda Dog Costume. The outfit is designed to mimic a standing Yoda complete with legs and feet that do touch the ground. Master Yoda also comes with his signature cloak and Jedi robe. But what really makes this very interesting is the headpiece which really does sport Yoda's signature ears. Nothing can be more iconic than those ears. Sure, Master Yoda can wield the Force but this is something that people can never really see. But throw in the ears and people automatically associate it with Yoda. The pooch outfit is made of very durable yet super comfy polyester. While it is durable, it is highly recommended not to machine wash it. Ideally, it should be hand washed and then left to dry hanging on a clothesline.
What we Like about It – The Force has truly been reawakened. With your pooch patrolling the streets of your neighborhood masquerading as Yoda, we're pretty convenient there's no way the Dark Force will find its way in your place.
Giant Spider Pet Suit by Rubie's Costume Company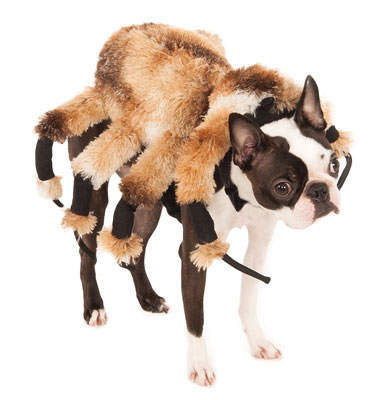 Want to strike fear in your neighborhood in the same manner as the innocent civilians in the 8-Legged Freaks movie ran for their lives? Well, you don't have to breed super tarantulas the size of a car or a bus. Just get the Giant Spider Pet Suit, put it on your pet pooch, and go for a walk. This is the best Halloween costume you will ever have. And while your pet is dressed like a gigantic tarantula, we'd recommend beefing it up with your own spider suit. The arachnid is made of plush material giving it a super comfortable fit for your pet as it rides on your pooch's back. There are two fully adjustable straps to help secure the beast onto your pet. One is located just below the neck and the other one is located on your pet's chest. The design really mimics that of a hairy tarantula. If a Boston terrier is going the wear this, we're pretty sure it will turn heads and stop traffic right in downtown. The eight legs of the arachnid are fully pliable. This allows you to bend them accordingly to produce a more menacing look. Just be careful walking around with your dog wearing this especially when young kids are around.
What we Like about It – The hairy design of the giant spider is really something. The color styling further adds to the realism. We're pretty certain this is an instant hit for scaring people out of their wits.
Viking Hat with Braids for Pets by Rubie's Costume Company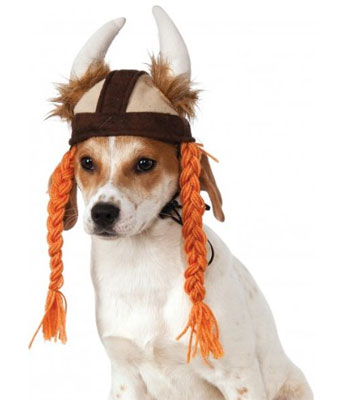 Everyone is familiar with the North Sea and Atlantic raiders known as the Vikings. Coming from Scandinavia and crossing vast seas in search of food and other resources for their resource-depleted homeland, the Vikings had a very fearsome reputation. And whenever we talk about Vikings, there's only one symbol we can think of – the Viking helmet complete with horns sticking out on the sides. Also trailing the edge of the headpiece are braids that are actually the hair Vikings. It is this signature look that the Viking Hat with Braids for Pets aims to portray. It is neither a body suit nor a cloak or robe. It's a hat, plain and simple. Yet, its Viking design is truly amazing as it comes with the iconic look of these Nordic explorers.
What we Like about It – The Viking Hat with Braids has a very simplistic yet effective design. The realistic Viking helmet will surely turn heads when you take your pooch for a walk.
Dewback Pet Rider Costume by Rubie's Costume Company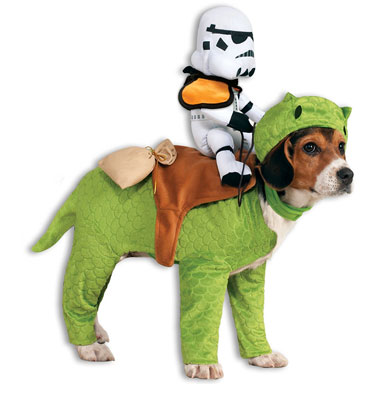 In the desert sands of Tatooine, Imperial Sandtroopers (Stormtroopers stationed in the desert) always made their patrols on board the AT-AT or the trusty Dewback. Now, your pet can act like the legendary Dewback complete with a Sandtrooper conveniently riding on its back. The Dewback jumpsuit is made of soft and durable polyester giving your pooch unparalleled comfort. It should not be machine-washed though.
What we Like about It – The Sandtrooper rider is lovable. However, we do recommend checking out Dath Vader, Ewok, Bantha, and the AT-AT pet costumes so you'll have a full array of Star Wars outfits for your pet.
How We Chose the Best Dog Costumes in Our List
Just like choosing a costume for our kid's Halloween party, picking a suitable clothing or garment for our canine friends is not really that hard. It's challenging, of course. But, with our reputation as hip and stylish dog owners on the line, we knew we had to do our best in coming up with this list.
First, the design. Unfortunately, it all comes to personal preferences. There are dog owners who would like their pets to really look like their masters so they tend to have their pets' getups to be fully customized. Some would have outfits that resemble their masters' favorite movie and television characters. The point is that when it comes to the design, it's more of a personal taste. However, we knew we had to look at what other parents think about these getups so we'll have a more or less objective assessment of the relevance of the design.
Second, the comfort fit of the clothing is essential. Dogs are not necessarily comfortable with wearing clothes especially if they are located in warmer climates. Mutts that have not yet been fully trained may also feel irritated with the getup. So, it's a must that the materials used in the dog costume be made of only the safest, softest, and smoothest fabric possible. The seams must be fully stitched to prevent any errant threads which can irritate our hound's skin. This is particularly true among toy dogs or small breeds.
Third, the ease of putting the getup onto our pets was also considered. If we're going to have a hard time putting it on our pets, then they will be so anxious that they won't want to wear it. If dogs can associate wearing the costume as something pleasant, then it would really be a joy to see them walking in these lovely costumes.
Lastly, the durability of the materials used had to be examined carefully. While it is difficult to find a fabric that will not be ripped apart by an angry and agitated dog, we nevertheless tried to look for materials that will provide some degree of strength. At least, you can be sure that your dog will still be using its outfit many years from now.
Do Dogs Really Need Clothes?
Many people don't necessarily think that dogs should wear clothes. However, there are clearly certain instances when dogs need clothes to keep them warm. This is especially true for sick dogs, puppies, geriatric dogs, and pooches that have impaired nutrition. Many of these types of dogs are unable to regulate their body temperatures and as such may often feel cold. Letting them wear clothes gives them the ability to feel warm.
Additionally, there are dogs that love to play in the bushes or even in the woods. While it is understandable to think that their coats will protect them from harmful organisms and other objects, we can add to this layer of protection by putting on them clothes. There are even raincoats and boots specifically for dogs so they don't get sick when playing under the rain.
Dogs that have skin allergies often scratch itchy areas. Unfortunately, doing so can lead to cuts which can get infected. Putting on clothes will help provide a barrier between the dog's paws and the skin. This minimizes contact irritation on the skin so the allergy will have more time heal.
Dog clothes can also help protect us, especially those of us who are allergic to pet dander. The clothes help trap dander so they don't get airborne and irritate our nasal passages as well as our skin. This way, we don't get an outbreak of allergies ourselves.
So, do dogs really need clothes we believe so.
The Bottom Line
Dog costumes are a fun way to add a little personality to our pets. With our top ten dog costumes, you and your canine friend will surely be the star in your neighborhood.